UNI Europa Regional Conference opens in style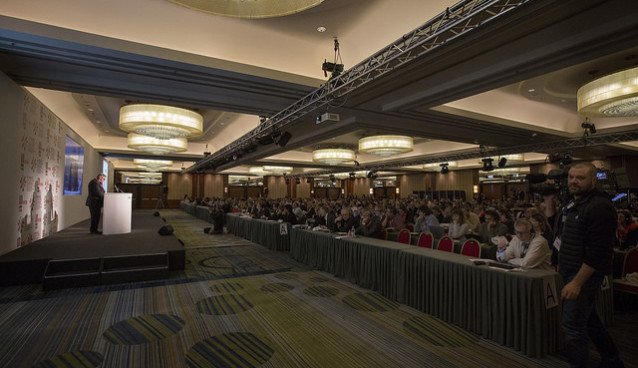 The UNI Europa Regional Conference has opened in Rome with close to a thousand trade unionists uniting with a promise to Change Europe Together.
The first day was a great success with the participants demonstrating their appetite for the theme
of Changing Europe Together in every speech from the podium, intervention from the floor and recorded message.
After a thrilling and beautiful opening ceremony organised by UNI Europa's Italian affiliates it was down to business. Oliver Roethig, UNI Europa's Regional Secretary, reminded us that trade unions were a vital part of ensuring a better life in Europe, for all citizens, "We will continue changing the future to the benefit of workers and their families. We are working for a better future for everyone, not only for the 1%. We will change Europe Together."
Read Roethig's keynote speech here and watch the video on how the future could look if we don't act together, now.
UNI Europa also held a press conference on the seismic shifts in Europe's digital economy which drove an enormous level of press coverage, see here . At the press conference, a new survey on Sweden's gig economy was launched, backed by data from the UK, outlining the major challenges facing this ever-growing new workforce. Read the full story here.
The conference also saw the launch of the Central and Eastern European Organising Institute, designed to increase union membership, strengthen worker-employer relations and grow organising capacity in the region. Watch UNI Global Union's Director of Organising Andy Snoddy explain why and how.
See all the highlights on the conference website, UNI Europa's Flickr and youtube channel and of course Facebook and Twitter. Join the conversation using #unieuropa16
Source: http://www.unieuropaconference.org/en/