CMTU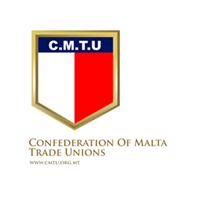 The Confederation of Malta Trade Unions – CMTU was set up in August 1959 to improve generally the economic and social conditions of employees, improve friendly relations between the federated organizations and to further cooperation and mutual consultation between them.
The CMTU has no political party affiliations.  Whilst its constitution places certain confederal obligations on the affiliates, it still allows individual organisations free to act as they deem best in the interests of their members.
The CMTU consists of seven affiliate members – Malta Union of Bank Employess – MUBE, Union Haddiema Maghqudin – UHM, Medical Association of Malta – MAM, Union Haddiema Universita ta Malta – UHUM, Malta Union of Professional Psychologists – MUPP, Lotto Receivers Union – LRU, Malta Chamber of Pharmacists – MCOP
The CMTU is affliliated with the European Trade Union Confederation (ETUC) and the International Trade Union Confederation (ITUC).  It is also a member of the Malta Council of Economic and Social Development (MCESD) and the Malta European Steering and Action Committee (MEUSAC).
Further information can be obtained at www.cmtu.org.mt